Anritsu ME7838A VectorStar Broadband Vector Network Analyzer
Product Description
The VectorStar Broadband ME7838A system begins a new era in broadband characterization offering many advances in broadband performance including:
Industry-best broadband frequency coverage - starts at 70 kHz instead of 10 MHz and operational from 40 kHz to 125 GHz.

Industry-best dynamic range: 108 dB vs 83 dB at 65 GHz and 107 dB vs 87 dB at 110 GHz.

Industry-best measurement speed: 55 ms vs 500 ms for 201 pts.

Industry-best calibration and measurement stability: 0.1 dB vs 0.6 dB over 24 hrs.

Compact, lightweight mmWave modules for easy, precise, and economical positioning on the wafer probe station - 0.6 vs 7.6 lb and 1/50 the volume.
The VectorStar Broadband ME7838E system limits operation from 70 kHz to 110 GHz for export licensing while continuing to offer the performance advantages of the ME7838A system.
Features
The ME7838A takes full advantage of the VectorStar's superior performance:
The first millimeter-wave system with stable real time leveling of power without the need for calibration software correction tables.

The broadband system may be configured to include a full range of banded millimeter-wave modules extending the frequency range to 750 GHz and beyond.

Upgrade paths available to expand VectorStar MS464xB VNAs to the broadband performance of ME7838A
Options
Broadband VNA Configurations:
| | |
| --- | --- |
| Model | Description |
| ME7838A | 70 kHz to 110 GHz, operational 40 kHz to 125 GHz, Broadband VNA, 1mm coax output |
| ME7838E | 70 kHz to 110 GHz, Broadband VNA, 1mm coax output |
Software
AWR Connected™ to Anritsu VectorStar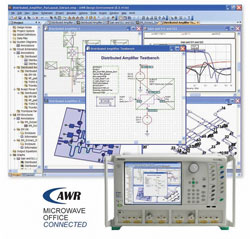 Anritsu's VectorStar Vector Network Analyzer (VNA) uniquely combines design and measurement by including AWR's Microwave Office® design software as a standard feature within the instrument, as a separate application on your desktop.
You now have access to all of the design tools essential for high-frequency IC, PCB, and module design at your fingertips, right on your VNA, including:
Linear circuit simulators

Electromagnetic (EM) analysis tools

Integrated schematic and layout
The integration of high-frequency design tools within high-performance VNAs is the way of the future - but it's available today, only from Anritsu and AWR.
Data Sheet
Anritsu ME7838A VectorStar Broadband VNA Data Sheet